This software scans files, including Docx, text, HTML, and XML, and uses pattern matching to count occurrences of words or phrases. It allows sorting of results alphabetically or by frequency.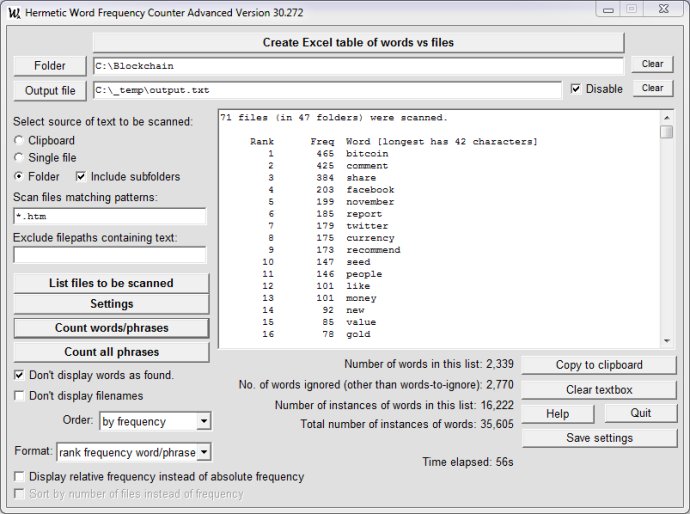 I recently had the opportunity to use a highly useful software that I would like to review. The main purpose of this software is to scan and analyze various types of files, such as docx, text, HTML, and XML files. It offers a comprehensive range of functionality, allowing users to count the occurrences of specific words and phrases within the text. One notable feature of this software is the option to utilize pattern matching while counting.

One great advantage of this software is that it does not impose any limitations on the size of the input text files. This means that regardless of the file size, users can confidently scan and analyze their documents without worry.

Another impressive feature of this software is the flexibility it offers in displaying the results. Users have the option to view the obtained data either alphabetically or by frequency, providing a level of control over how the information is presented.

Furthermore, the program can be customized to allow or disallow certain characteristics in the words being counted. Users can choose whether numerals, hyphens, apostrophes, underscores, or colons should be considered, and they can also ignore infrequently used or short words. Additionally, the software offers the ability to exclude words that are present in a specific file, adding further customization to the counting process.

The software also includes several other impressive features. For example, users can set the software to count only specific words or phrases from a predetermined list, allowing for targeted analysis. Additionally, the software enables users to export the results to an output file, which can be easily read into programs like Excel. Moreover, it automatically creates an Excel-readable file that pairs words and phrases with their corresponding files.

One particularly remarkable aspect of this software is its multilingual capabilities. It supports text in languages such as French, German, Italian, Spanish, and other European languages. The program also accommodates the use of regular expressions for specifying which words and phrases to count. This versatility makes the software suitable for a wide range of scenarios and linguistic requirements.

In conclusion, I highly recommend this software for anyone in need of an efficient tool for counting and organizing words and phrases within a document. Its comprehensive features, flexibility, and multilingual support make it a valuable asset for various applications.
What's New
Version 33.0: Made freeware
Version 32.34: Fixed minor bug